A teenager's parents have arranged a visit from "The Rock" for their son in the hospital, but the boy, Jared, points out that he'd rather see a girl's breasts. J.D. tries to convince Elliot to flash Jared. He then pages Dr. Kelso because a procedure was scheduled for a patient (Mr. Martinez) even though he was already dead.
Dr. Cox becomes mad at J.D. because Mr. Martinez's insurance would have been enough to pay for a procedure scheduled for Mrs. Blitt, who can't afford it. J.D. still thinks he did the right thing, and he is rewarded by Dr. Kelso with an invitation to a round of golf in the afternoon.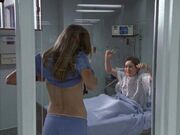 Elliot decides to fulfill Jared's wish. She later complains that none of her patients are improving, but then Nurse Roberts enters the break room and tells her that Jared is doing much better. Elliot now believes that seeing her breasts helped Jared. She later flashes a coma patient, which results in a major increase of his heart rate.
Turk wants to buy a pen for Carla, but he doesn't have time to buy one. So he takes one out of the "Lost-and-Found-Box ", wraps it and gives it to Carla. Later, he is shown some X-rays from people who had various objects in their colons. Laverne tells him that there is an "ass-box" where they keep the objects found in patients' colons, but there is no lost-and-found box. Turk realizes that the pen he got for Carla was an "ass pen." He tries to get to Carla before she opens the gift, but he is too late.
When J.D. gets to the golf course, he is surprised to find Dr. Cox there as well. Through the course of the game, Dr. Cox tries to convince J.D. that a patient's well-being matters more than the hospital's funds, while Dr. Kelso tries to convince him that the hospital cannot function without money. In the end, J.D. decides that Dr. Cox is right. Dr. Kelso discovers that Dr. Cox lied about Mr. Martinez and suspends him.
Later, Dr. Cox has a dying patient and is about to pronounce him when Elliot walks into the room and lifts her shirt up. After a moment of awkward silence, Dr. Cox pronounces the deceased.
That night, Turk tells Carla the truth about the pen. She is angry at first, but then realizes that Turk holds openness and honesty over sex, and she takes him to bed.

Read more: http://scrubs.wikia.com/wiki/My_Two_Dads#ixzz13Sm5MmcU