J.D. gets assigned an important board member, Jordan Sullivan, as a patient. Elliot is treating Dr. Greenberg, a shrink, who is confined to wearing mouth protection which keeps him from speaking. Elliot talks to him about her problems.
Meanwhile, Turk spends the night at Carla's apartment, but her mother, who is visiting, storms the room and yells at Turk because they are not married. Turk tells Carla that he will never spend the night at her house again.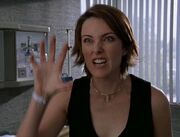 Dr. Cox is still suspended, which Dr. Kelso finds very amusing. J.D. wants to ask Jordan if she could help out Dr. Cox, but he finds her packing and ready to leave. He gets mad, which Jordan finds very hot, so she tells him to take his pants off. They sleep together. When Elliot wants to talk to Dr. Greenberg again, she finds out that he has been released, which makes her sad. After spending the night at Turk's apartment, Carla gets a call from the hospital that her mother has broken her leg.
After sleeping with Jordan, J.D. wants to introduce her to Dr. Cox, but Cox informs him that Jordan is his ex-wife. J.D. feels immediately guilty for sleeping with Jordan, but decides not to tell Dr. Cox what happened. Later, J.D. tells Dr. Cox that Jordan could help him get back from suspension, but he doesn't want that because he hates her. Elliot calls her mom who doesn't really listen to her problems, and Carla is angry at Turk, blaming him for her mother's accident. It is up to Dr. Cox to convince her that it had not been Turk's fault.
J.D. asks Jordan if she would help Perry, while Turk tells Elliot that he had once seen a therapist and it had helped him a lot. Then Carla tells Turk that she wants to spend the night at Turk's place because her mother is at the hospital. The board meeting ends with a cheerful Dr. Cox. He was not fired, which Dr. Kelso is not pleased with. At the end, Elliot goes to see Dr. Greenberg as a patient and Dr. Cox thanks J.D. for helping him after all, while looking at old pictures of happy times with his ex-wife.
Read more: http://scrubs.wikia.com/wiki/My_Bad#ixzz13Smt12ny