J.D. and Carla's friendship comes to a critical point where his knowledge surpasses her experience. J.D. is nervous that Carla will be upset that he is advancing in medicine as a doctor. After having a bad experience with a patient, Dr. Cox uses J.D. as his personal punching bag. J.D. talks with Carla about how it hurt his feelings, and later Carla yells at Dr. Cox for hurting her "Bambi". Following this, Dr. Cox makes J.D. look like a fool in front of a lot of people for complaining to Carla. J.D. then yells at Carla for calling him Bambi. After she accepts his apology, they continue with their plans to visit a photography exhibit. On the way there, J.D. makes a joke about not attending college, and Carla gets upset. In the rain, she explains how she's tired of interns outgrowing her, and how J.D. is the first intern to make her feel bad about what she does. The next day at the hospital, J.D. attempts to rebuild their relationship slowly but surely. He comes to terms with her calling him "Bambi".
At the same time, Dr. Cox is assigned a new patient with Elliot. The patient - Jill Tracy is super hyper even after taking two Valium. When Dr. Cox finds there is nothing wrong with her, he orders Elliot to release Jill as soon as possible. Elliot feels bad that Jill leads such a stressful life that she tells her that she can stay at Sacred Heart over the weekend. When Dr. Cox finds out, he gets upset, but ultimately teaches Elliot that everyone needs a break sometime.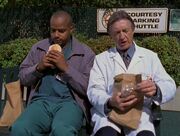 Meanwhile, Turk and Dr. Kelso are fighting their own battle. A bench located by the parking lot of Sacred Heart is a place that Turk finds solace from a busy day. He eats his lunch here. However, Dr. Kelso intimidates him off the bench. In the end, Turk proves to want that comfort by eating on the bench in the rain, and Dr. Kelso secretly admires him for that.
Plot Points
Read more: http://scrubs.wikia.com/wiki/My_Nickname#ixzz13SpyNz7F