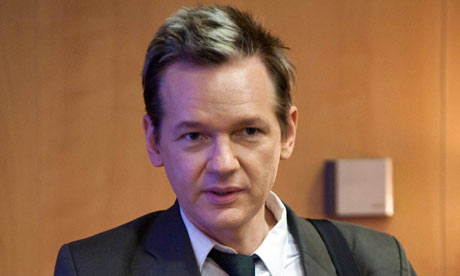 WikiLeaks founder Julian Assange in Stockholm this month. Photograph: Scanpix Sweden/REUTERS
WikiLeaks founder Julian Assange has been questioned by Swedish police over allegations of molestation, his lawyer said today.
Leif Silbersky said police questioned Assange in Stockholm for about an hour last night and formally told him of the allegations against him.
Silbersky said his client denied the accusations and hoped the prosecutor would drop the case.
Police started investigating Assange this month after two Swedish women accused him of rape and molestation, but the prosecutor later closed the rape investigation.
Molestation is not a sex crime under Swedish law, but covers offences such as reckless conduct or inappropriate physical contact. It can result in fines or up to a year in prison.
Assange has suggested that the accusations are linked to Wikileaks's release of secret US military documents on the war in Afghanistan, which were published in collaboration with the Guardian and two other newspapers.
He wrote on Twitter: "The charges are without basis and their issue at this moment is deeply disturbing." He said the website had been "warned to expect 'dirty tricks'. Now we have the first one."
US authorities criticised the leak, saying it could put the lives of Nato troops and Afghan informants at risk.
Assange has said that Wikileaks intends to release a further 15,000 documents – a pledge condemned by the Pentagon, which has demanded the deletion of the files from the website.