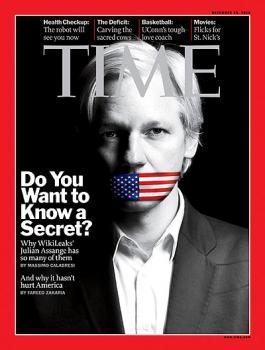 TIME magazine's December 13 edition features Julian Assange on the cover and a number of WikiLeaks-related articles, including Massimo Calabresi's cover story, WikiLeaks' War on Secrecy: Truth's Consequences, and an additional feature by Fareed Zakaria: WikiLeaks Shows the Skills of U.S. Diplomats.
Further TIME WikiLeaks coverage includes an interview with Julian Assange, features on the US relationship with Germany and Pakistan, and deception in Mideast diplomacy. TIME also spoke with Julian Assange's lawyer Björn Hurtig about the Sweden case.
We would like to remind you that you can still vote for Julian Assange in TIME's Person of the Year reader poll.