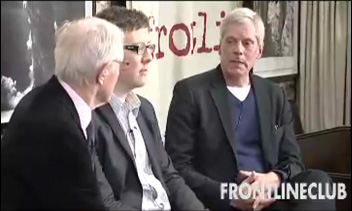 Frontline Club: WikiLeaks - The US embassy cables
This event, held on December 1st, featured WikiLeaks spokesman Kristinn Hrafnsson and data journalist James Ball in a discussion with Colleen Graffy, former deputy assistant secretary of state for public diplomacy (US State Department), and Sir Richard Dalton, associate fellow of the Middle East and North Africa programme at Chatham House. The discussion was moderated by author and broadcaster Tom Fenton.
The video recording of the event is now available on the Frontline website.
BBC HardTalk: WikiLeaks - Open Secrets
In this December 3rd panel show, Host Stephen Sackur speaks with former UK ambassador Carne Ross, former US deputy secretary of state John Negroponte, and WikiLeaks data journalist James Ball about the Cablegate disclosures.
The video is available on the BBC website until December 10th.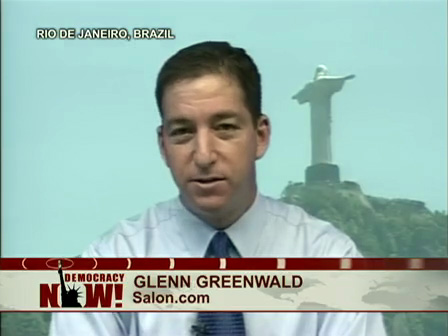 Democracy Now!: Is WikiLeaks' Julian Assange a Hero?
Amy Goodman and Juan Gonzales hosted a debate between Glenn Greenwald of Salon and Steven Aftergood of Secrecy News on December 3rd.
Glenn Greenwald: "If you look at the overall record of WikiLeaks—and let me just stipulate right upfront that WikiLeaks is a four-year-old organization, four years old. They're operating completely unchartered territory. Have they made some mistakes and taken some missteps? Absolutely. They're an imperfect organization. But on the whole, the amount of corruption and injustice in the world that WikiLeaks is exposing, not only in the United States, but around the world, in Peru, in Australia, in Kenya and in West Africa and in Iceland, much—incidents that are not very well known in the United States, but where WikiLeaks single-handedly uncovered very pervasive and systematic improprieties that would not have otherwise been uncovered, on top of all of the grave crimes committed by the United States. There is nobody close to that organization in terms of shining light of what the world's most powerful factions are doing and in subverting the secrecy regime that is used to spawn all sorts of evils."
The video and full transcript are available on the Democracy Now! website.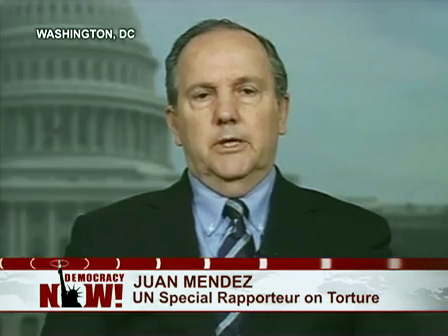 Democracy Now!: U.N. Special Rapporteur Juan Méndez: Instead of Focusing on Assange, U.S. Should Address WikiLeaks' Disclosures of Torture
Democracy Now! interviewed Juan Méndez, the new U.N. Special Rapporteur on Torture and Other Cruel, Inhuman and Degrading Treatment or Punishment, on December 2nd. The interview focused on Cablegate revelations regarding US spying on UN officials and torture committed under the Bush administration.
Juan Méndez: "What I am really worried about is that we seem to be focusing on whether disclosing these cables is legal or illegal, whether it merits some kinds of action against Mr. Assange. We're not really discussing the merits, the substance of what some of these things reveal. And in my case, for example, I'm very concerned about the documents that show that literally thousands of people were first imprisoned by American forces and then transferred to the control of forces in Iraq and perhaps even in Afghanistan, where they knew that these people were going to be tortured. That's a very clear violation of a standard that applies to the United States as a signatory of the Convention Against Torture, and I want to know what's being done about getting to the bottom of that."
The full video is available on the Democracy Now! website.